Canadian gun owners have been under attack by the Liberal government since the 2015 election. Bill Blair's reaction to a horrific tragedy in Nova Scotia committed by a madman with a known criminal past and illicit firearms was to punish legal, RCMP vetted gun owners with a mass gun ban and confiscation plan, all during a global pandemic and a suspended parliament.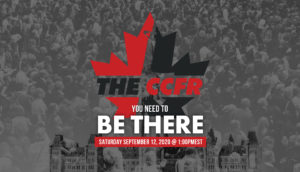 The CCFR is taking the fight to save your guns all the way to the Supreme Court, if need be. We will make sure your voice is heard in Ottawa and beyond.
BUT … you need to also be seen.
We are "marching on Ottawa" on Saturday, September 12, 2020 @ 1:00pmEST – The Integrity March. We are going to the capital of Canada, where the laws are made and the lawmakers are, to demand integrity from our politicians and in the decisions they make. Canadian gun owners want a safer Canada too – and we demand credible work on crime and violence.
Will you join us?
We're going to start right in front of centre block on Parliament Hill where we'll hear from a few speakers, then we'll march our way through Ottawa, led by a team of bagpipes and drums. We'll have lots of signs, flags and banners on hand for you as you exercise your right to be heard and seen. Rod, Tracey and the whole CCFR crew will be on hand, joined by thousands of concerned Canadians.